Yearly Reported Medical And Clinical Negligence Cases
28th June 2013

Annual trends show that Britons are making an increasing number of clinical negligence claims. Nonetheless, compensation payouts only represent a tiny fraction of the NHS' budget, and therefore trying to reduce them to reduce budget deficits is of questionable efficacy. In 2010 to 2011, the NHS' budget was approximately £104 billion, yet just £729.1 million was paid out to victims of clinical negligence, with a further £235 million going on legal costs.
Official government figures show that the amount of money earmarked for medical negligence claims is also rising. In 2007, a total of £9.2 billion had been set aside for claims in the NHS setting, but in 2012 this figure had reached £18.9 billion.
This money represents the total cost of all potential medical negligence claims, including those that have not yet been made. As a result, the total value of all payouts is considerably smaller than this. While governments may be interested in reducing this number and preventing compensation claims, it is worth remembering that the mothballed NHS National Programme for IT cost £6.4 billion.
Why is the number of NHS medical negligence claims rising?
The rising number of claims could be due to a combination of factors, including an improved willingness to seek redress when things go wrong, better access to justice, a growing knowledge of what medical negligence actually consists of and a higher number of actual instances of medical negligence.
Furthermore, the cost of remedial treatment has also increased. Wheelchairs in the past would have considerably fewer features than modern models, for instance, and the cost of these devices would have increased accordingly.  Survival rates have improved, which has resulted in people experiencing long recovery times from serious injuries.
As the NHS Litigation Authority deals with the cost of NHS medical negligence claims, the rising cost is not a concern for hospital management teams. This means there is less of an incentive for them to work to deal with cases of clinical negligence and to ensure they do not happen again.
How long does it take to settle clinical negligence claims?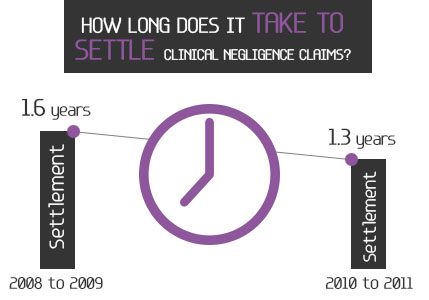 Generally it is taking less time to settle clinical negligence claims than it used to. In 2008 to 2009, the average length of time it took for a claim to be settled was around 1.6 years, but in 2010 to 2011 this fell to approximately 1.3. The NHS Litigation Authority still appears to be reluctant to settle at early stages and will usually wait until the last minute before paying out.
Nowadays, investigations into a claim of negligence usually start when a claim is submitted, and defendants are expected to provide some kind of evidence if they wish to dispute a claim. This has seen cases progress with greater speed than they used to and has seen a number of early admissions. Furthermore, the NHS Litigation Authority is extended some investigations past the limitation period, which is allowing claims to be settled without court proceedings taking place.
What fields of medicine are responsible for clinical negligence claims?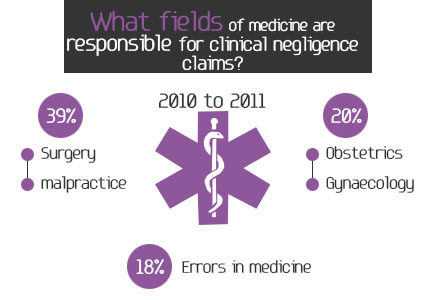 Surgery is seen in the highest proportion of Clinical Negligence Scheme for Trusts (CNST) claims for 2010 to 2011, with 39% of all claims resulting from surgical errors, malpractice or negligence. Obstetrics and gynaecology represented a further 20% of claims, while 18% were based on errors in medicine.
However, the highest proportion of payouts were made for obstetrics and gynaecology, with £5.2 billion of speciality claims made. This is a 15.4% rise on figures from 2009 to 2010. Settlements for obstetric claims reached a total of £234.8 million.
What will the future bring for medical negligence solicitors?
New regulations relating to no-win no-fee claims and attempts to reduce the number of compensation claims could see medical negligence solicitors facing difficulty or coming up with new funding options and grants to support their clients. The government has suggested that no-win no-fee deals could have some role to play in the rising number of clinical negligence claims and is attempting to limit the number of these cases.
Some have even suggested that there are businesses who send staff around hospitals looking for the victims of medical negligence and encouraging these people to start claiming compensation.
Others have pointed out that increasing pressures on NHS hospitals and rising healthcare costs overall could be to blame. Reduced staffing levels and improved standards of treatment are seeing NHS workers under immense pressure, and this kind of working environment could be leading to a higher volume of clinical negligence claims.